Details

Last Updated on Sunday, 11 December 2016 00:55
Dear Friends!
We are excited to invite you to Eastern Dance Studio's annual New Year Party and Pot-Luck!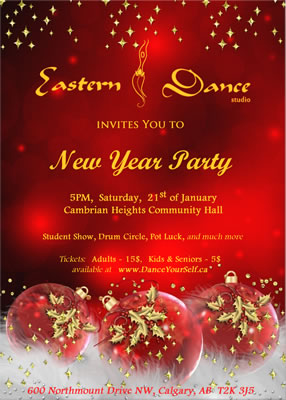 When:

January 21, Sat @ 5 pm

Where:

Cambrian Heights Community Hall (600 Northmount Dr NW, Google Maps)
This year our NEW Year Party is promising to be exceptionally fabulous as we going to enjoy so many NEW fantastic features!


NEW Location - to accomodate our growing family!
NEW Choreographies - be first to see them!
NEW Group - our cutest in the world Moms& Daughters may even dance for you ( if they are brave enough)))!
NEW Dancers - our Beginners group is having its first performance in front of the audience! It is always so exciting to see someone debuting as a dancer!
NEW Project of our Teen Group - you will be amazed how creative and talented they are!
NEW Costumes and masks created by Olga Sem for upcoming Vizard Show 2017!
NEW Entertainment for all the dancers - yes! not only our dancers will entertain the audience - The One World Drum Company is coming to co-create a fun drum circle with us!
Invite your friends and family!
Bring your favourite dish to share!
Tickets
Get your tickets before they are gone! Space is limited! This year no tickets at the door!
Adults

Kids (5 - 16 y.o.)

Kids under 5

FREE