Details

Last Updated on Saturday, 24 June 2017 09:58
Celebrating the 10th Anniversary of the Eastern Dance Studio!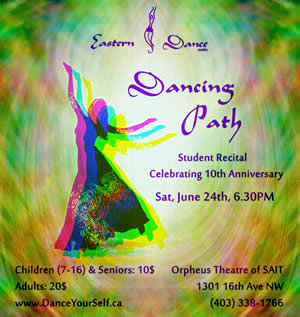 Dear Dancers and Guests!
You are invited to Eastern Dance Studio annual Student Recital! This year is very special for us! We are celebrating our 10th anniversary!
TICKETS ARE AVAILABLE AT THE DOORS

Come to enjoy all our new and old dances, remember us at the beginning of our Path, and appreciate how much we acheved!
When:
June 24, Sat at 6.30 pm
( Doors open at 6.00pm)
Where:
Orpheus Theatre of SAIT
(1301 16 Ave NW. T2M0L4)
Tickets
are availalbe at Son of the Pharaoh, at classes or online:
Adults

Kids (7 - 16 y.o.)

Kids under 7

FREE
How to get there