197 1 Street SW, Calgary Alberta, T2P 4M4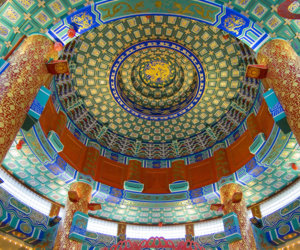 The Dance Studio at Calgary Chinese Cultural Centre is situated on the 3rd floor, room 307.
It is a convinient location for those students who work Downtown and can simply walk to the class from the office.
The historical building of Chinese Cultural Centre is built at the heart of China Town and easily accessible via Public Transit and LRT. The magnificent architecture of the building is a delight for the eyes of the dancers and parents when they come to the class. Free-admission photo and art exhibitions often held in the Centre making the way to the class even more entertaining.
The Dance Studio has a round fully-windowed wall overlooking Daqing Avenue (Second Avenue) and Chinatown. Freshly renewed hardwood floor offers the best experience for the dancers' feet. Two huge mirrors allow the students to see them from feet to toes. Changing room and a water tap is available right in the studio.
On-street parking is free after 6 pm. For the best parking rate before 6 pm please see the the official site of Calgary parking or check Parkopedia for interactive map.