Details

Last Updated on Saturday, 23 July 2016 23:02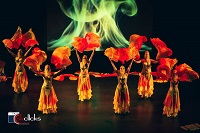 This June students from our Performance Team and Teen Group performed for the first time in commercial project for a big audience. This is, no doubt, step up for our dancers.
Vizard Show – Theatrical Dance Performance in the traditions of the Carnival of Venice that I was creating as Artistic Director and Chief Choreographer together with Olga Sem (the founder) draw significant attention of general public and city officials. On the June 29, 2016 this unique for Canada show had debuted in the UofC Theatre and had tremendous success! We sold out close to 500 tickets and were given standing ovations!
The production combined classical and modern dance with various elements of circus, pantomime. 61 unique masks and costumes including LED lit and UV painted were created by Olga Sem, 25 choreographies and pantomime scenes were created for this show involving thirty dancers, actors and circus performers.
Eastern Dance Studio was deeply involved in production - our students participated in most of the dances!!! They performed not only belly dancing but also in contemporary, classical, folk, and fusion styles. I'd like to thank everyone who committed time and efforts to this production!
Here is the short video with some highlights of the show.
VIZARD SHOW PILOT PRODUCTION PROMO from Sergey @ New West Video on Vimeo.