This book is about dance as a ritual.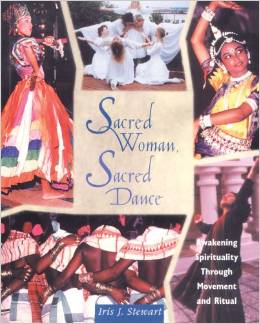 The author searches the real history of women's dance as an expression of spirituality. The book is full of unique colourful illustrations: historical pictures, and ancient artworks. Iris explores the role of women's sacred dance in goddess-worshiped cultures in the olden days, and investigates how and why the role of this dance changed over the centuries. As you read this book you become more and more connected to the Goddess, the Mother Earth, the Feminine Energy.
Here are the words I really like:
"The reawakening of the Great Mother symbol is not a retreat to old ways but rather calls us to seize responsibility for the survival of our planet – to use our inherent gifts, overcome our own fears, and become the authors of our own destinies."
Stewart, Iris J. Sacred Women, Sacred Dance: Awakening Spirituality through Movement and Ritual. Rochester, Vermont: Inner Traditions, 2000

You can buy this book on Amazon