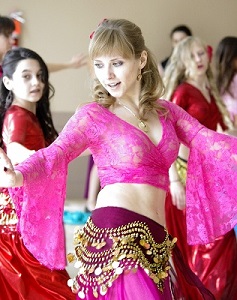 Maria is originally from Kyrgyzstan (Central Asia), and the oriental dance is very popular over there. She first tried belly dancing in 2004, Bishkek, Kyrgyzstan when her girlfriends signed her up for the class. Shimmy was the most fun part of the class!! The "awe-moment" was to see her instructor doing belly-rolls.
Having a background in rhythmic gymnastics, Maria found belly dance offered her everything that I looked for her fitness needs: excellent body exercise, plasticity, connection with music. When she moved to Canada, Maria wanted to continue with eastern dance journey and she found Eastern Dance Studio in 2011.
What Maria likes about Galina's classes is that Galina always tries to bring something new to the class whether it is a new technique, learning rhythms, or using props. Maria thinks that the group actually made great progress in dancing over the years. She joined Eastern Dance performance team in 2013. She brought to the team her radiant smile, positive attitude, and eagerness to do her best on the stage and in the class.
By the present moment, Maria learned 7 choreographies created by Galina. She learned how to use veils, fan-veils, cymbals in the dance. She loves the creative and unique choreographies that the group learns and performs.
Maria believes that the oriental dance offers endless opportunities to grow: improving body coordination and movement techniques, expressing you through the dance, improving stage performance and teamwork skills. She also enjoys a "mental break" during the class and forget about her everyday worries.