Events
Eastern Dance Studio is a regular participant of various caltural festivals, shows, wedding receptions, and parties around the province. Here are pictures and videos from some of our recent events:
Details

Last Updated on Monday, 09 February 2015 16:03
We are exited to invite you to Eastern Dance Studio's New Year
party!
LETS CELEBRATE the beginning of the brand new 2015 together!!!
Details

Last Updated on Wednesday, 23 December 2015 14:29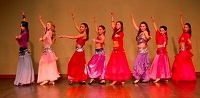 Our teenagers have prepared a new dance!!!