We are meant to be transforming right now. There has never been a more important time to find our gifts, deal with our shadows, and follow our inner wisdom. Life has never before required us to transform so quickly, and the best way to do it is DANCE!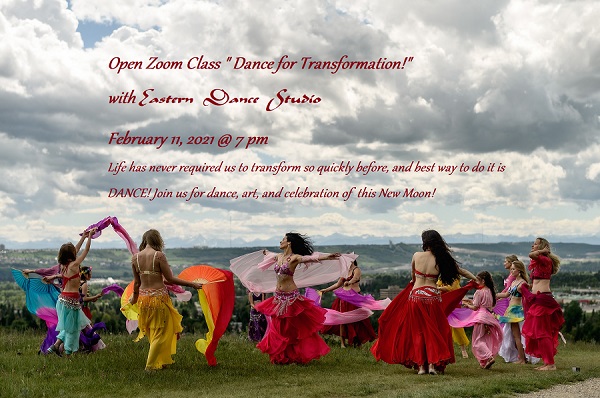 THE PROGRAM WILL HELP YOU:
To feel yourself happier, more beautiful, graceful and powerful as a woman
To stay healthy, young and attractive for many-many years
Get motivated for regular healthy physical, mental, and creative activity
Reconnect with your feminine body on a deeper level
Learn to listen to you intuition through body, movements and art
Fill your life with energy, inspiration enjoying support and connection of feminine circle
Make your life more balanced and harmonious physically, mentally and emotionally


WANT TO TRY BEFORE REGISTRATION?
Join us for the Open Zoom Class on Thursday, February 11 at 7- 8.30 pm
https://us02web.zoom.us/j/86460306447

I AM GRATEFUL FOR THE FEEDBACK FOR MY CLASSES:

THIS PROGRAM FOR YOU IF YOU ARE:
Tired of the daily routine, which has no place for celebration and magic
You can't live every day with happiness and love
Lost in children and chores and disconnected from the Goddess inside
Feel no contact with your feminine creative power
Do not know how to follow your dreams and claim your power

if you are missing the connection, energy, emotions, and inspiration of dancing in a circle of like-minded women

You are lacking energy and often remain in a state of apathy and procrastination

BUT WANT TO TRANSFORM IT INTO YOUR GIFTS!

The shortest way to our intuition is our own body. Feminine dance is about that and only that. To do that many of us need support. We need to find our people and band together to innovate and co-create ourselves and the space around us.


NOTHING IS MORE EFFECTIVE IS PRACTICE!



In this program you get practises for all aspects of yours:

For your physical body:

you will have all the benefits of regular Dance Classes: warm-ups, stretches, movements, combinations and choregraphy

For your emotional body:

you will have music, dance and art-therapy nourishing your self-esteem, body-awareness and self-love and simply feeling good in your body.

For your mental body:

you will have lots of interesting and inspiring information about history, philosophy, healing potency and symbolism of sacred feminine dance, art and practices.

For your spiritual body:

you will have meditations, affirmations, rituals, grounding, relaxing and breathing practices.



HOW IS IT ALL GOING TO WORK?


I have created this program for all of us because I was missing the warmth and sense of community we get from each other in our studio classes. This 7-week course will give us all the emotional support, physical activity, sense community, motivation to grow and inspiration for our hearts.


Every day you are going to get support in our group chat

Every week you are going to have a Zoom.

(In case of the removal of restrictions our zoom classes will be transferred to North Glenmore Community Centre (2231 Longridge Dr SW, Calgary, AB T3E 5N5) MAP
Every month we are going to get together either outside or in zoom for a circle dance or celebration.



THIS PROGRAM IS DESIGNED FOR DANCERS OF DIFFERENT LEVELS EXPERTISE IN BELLYDANCE:


if you have never bellydanced before OR took less then 3 sessions of foundation level of bellydance, I recommend to register to the group for beginners. ( ZOOM CLASS IS ON THUSDAYS 7 - 8.15 PM) Lanquage of instrustions: Russian.

If you have Beginner+ level or above you are welcome register to beyond beginners group.

( ZOOM CLASS IS ON TUEDAYS 7 - 8.45 PM) Language of Instructions: English.
NOTE: Open Class on February 11 is for all levels.