Classes
Details

Hits: 1433


This class is created by a certified yoga instructor and a certified belly dance instructor Galina. The unique blend of dance and yoga helps those who spend the whole day in front of the computer. Breath and meditation, movement and silence are all organically interwoven into the canvas of the class relieving stress, stretching and toning the body, and improving concentration.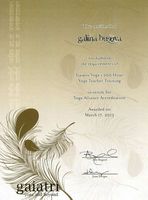 The regular class starts with a breathing practice and a warm-up for all the joints followed by asana practice. At the end of the class the participants integrate their experience with a 5 min relaxation and Savasana. It is a slow and conscious practice focused on the breath, proper alignment, and body awareness.
What to bring:
Please bring a yoga mat, a water bottle, and wear comfortable clothing. There are several spare yoga mats in the room available on first come first serve basis.
What to expect:
Please expect at the beginning of the class being ask about your current medical conditions: such as past traumas and operations, blood pressure or cardiovascular issues, pregnancy etc. If you would like to do it confidentially please contact Galina prior to class.
Room Etiquette:
We start at 12 and finish 1 pm sharp. If you are late or need to leave earlier please try to minimize the disturbance of the class atmosphere.
Before the class, please set your cell phone on the quiet mode, or if you desperately need to make a call quietly excuse yourself from the room and do it outside to not to disturb the others.